Mr. Howard Fry has kindly taken a portrait of me, with my recently-awarded
Order of Canada, and the Queen's Diamond Jubilee.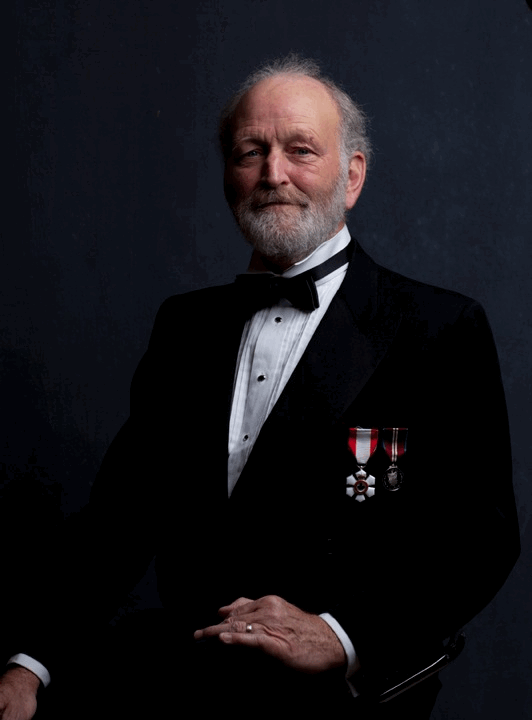 Thank you Howard Fry for the photo, and the late Dr. Charlie Gould for the outfit
Tour Schedule - Press Kit - Discography - Contact - Buy - Product Info - Home
Blog Conclusion: If a blog is meant as an avenue for sharing experiences and insights,
perhaps it could be labelled according to its indulgences, as in:
freshly optimistic, hung-over-head-banger, or, more moderately, by topic. Blog Topic: the tour of New Zealand by Graham Wardrop and Valdy. Sixteen dates in thirty-one days, three around Auckland
and thirteen on the mainland, plus a solo slot with the symphony for Graham,
and an afternoon set for me at ReStart in Christchurch, is not an exhaustive tour, but the distances driven were surprisingly long. This was largely because we were touring in the summer months, a traditionally soft time of year for venues. Graham had us there in April 2012, an appropriate month to be touring in New Zealand, but my wife sustained an injury, so I bailed on Graham and stayed home, leaving him to do the tour solo, not his intent, but doable. And he did it well, announcing that we were indeed going to tour as a duo, so our choice of month to tour was dictated by the life-expectancy of my airline ticket, thus we toured in February, mid-summer. Our playing did not suffer for the season, however, and we developed quite a musical rapport over the four weeks of singing and picking, driving and gawking,
for Graham took me to a number of the special spots near Takaka and Motueka,
springs rising from seemingly flat land, draining the highlands through fissures and through the strata, to bubble up as a pond, which is the river's source. We stopped for stone fruits and flat whites, I bought and consumed native grapefruit, and we ate at the Mussel Inn. We stayed at the Mussel Inn, and we played there Jan. 31, to a full house, so good for us on our first gig. Jane and Andrew have built a life, and have purposefully been central to the musical culture of Golden Bay. Andrew is a brewmaster, and the Mussel Inn serves only beers, ales and ciders made on site. I got queasy driving, uncommon for me, and it tempered my radiance somewhat. I was also bunged up from travel diet and still jet-lagged, and sitting on the left with no wheel to hang on to, a totally unnerving reality about millions of kilometres of roads on this planet. I eventually di get the driving down. We were heading home to Christchurch from Dunedin, northbound close to the south-eastern shoreline, and Graham let me have a go, after the twisty bits of Central Otago were behind us. It is unnerving, but doable. People tend to drive quite quickly in New Zealand, and I was happy on every occasion to be amidst a dense flow of highway traffic, where keeping up was possible. So, a successful tour, and an insight into the depth of character among New Zealanders. There is a confidence, and an understanding that excellence is pursued in whatever one's pursuits are, that differs new Zealanders from Canadians. And good night to you all, from a Calgary hotel guarding e from the -12º winter hovering outside the walls.