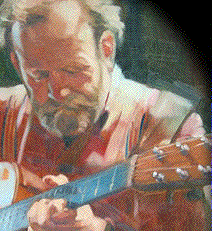 Viva Valdy: Live at Last - 2 CDs, 25 songs; 13 live, 12 tracked.
portrait by David Goatley, Victoria, BC,
The 12 songs on the Studio CD ( No Effects: well, Not Many ) is as ambitious as anything that Claire and I did; Claire Lawrence is a fine player, a composer, and for me, and he was and is a music producer of great taste, earning us four Gold Record certifications.
This CD is as even more diverse than what Elliot Mazer and I did in San Francisco in 1978.
I've been learning as I go; it's all mileage, really, and paying attention. Norman MacPherson co-produced this CD with me; as a guitarist, a bassoonist, and owner/engineer of a fine studio, Norm is a human of vast musical potential, and his touch is evident throughout these recordings.
So, that's half of the story, the big half by my measure.
The other is a live CD, recorded between November, 2002 to April, 2003. I've been asked for years to release another live recording, the last being in 1974 from Massey Hall in Toronto. Fortunately some of these performances feature other musicians, and three songs feature Western Roots artist Gary Fjellgaard and Valdy in duo performance.
- Tour Schedule - Press Kit - Discography - Contact - Buy - Product Info - Home -
Viva Valdy: Live at Last,
2 CDs, 25 songs; 13 live, 12 tracked.
"The 12 tunes on the Studio disc are multi-track productions, with great players, sweet BGs, a few parts flown in on the net, hard disks lugged up and down the 401 to various studios; Logic audio on a dual processor G4 through a Motu 2408, it's all good stuff, great software," asserts Valdy, "and it has helped Norm and I make a really decent recording."
Now, doesn't that sound Canadian?
This is the best recording work Valdy has ever done with keen songwriting, assertive vocals, marvelous textures; this disc should be this good, after the years Valdy's been recording. Maturing as an artist, it would appear, does not include backing away from the edge.
Viva Valdy: Live at Last,
the Live CD: "No Overdubs, No Second Takes!" joined by
Gary Fjellgaard on 3 songs.
the Studio CD: "No Effects; well, Not Many!" 10 new songs,
2 songs reprised, including "Play Me a Rock 'n' Roll Song."
"The original intent was to do the same tunes both live and in studio, yet with so many songs to document, the content shifted to who I am today, and I want to give these tunes some shelf life, let them be heard, et voila! Viva Valdy: Live at Last. Hope you enjoy these tunes."