You are presently in my web site. I am Valdy, a Canadian folksinger.

- Tour Schedule - Press Kit - Discography - Contact - Buy - Product Info - Home -

Tech Needs:

Valdy solo - Stage: Shure 58 on boom, Shure 57 on boom, one DI, one monitor on my right.

Lighting: at least 2 Lights ( left-front and right-front ), preferred Salmon-coloured gels.

Specials as they're available.

For Gary Fjellgaard and I: All the above, plus Gary vocal boom( he brings a tasty condensor mic ), Gary DI ( he switches mandolin and guitar on one input), one monitor on stage left, a DI for Valdy's bass guitar, and a central two-plex power-drop. Add two more lights out front for Gary.

That's it; please flatten graphs and channels before sound check.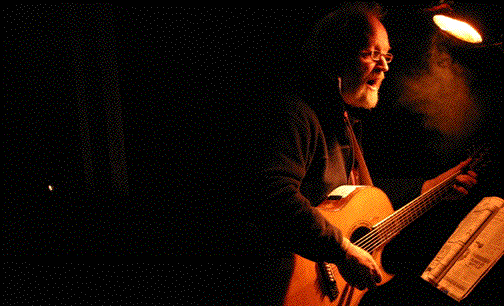 Notes from 2003: I get lucky sometimes, with house PAs, when the tech knows the gear, and the room is balanced, and damped; then there are those other gigs, when the presenters produce a key to the room they'd been told has the sound gear, and "It's all really good stuff."

I've been recording live these days, and thus am carrying fine studio mics: a Rode Classic, a mysterious little Crown condenser, a C1000S, and an old Neumann KM84. These go to a Mackie 1604, insert out to a blackface Adat, then out of the Adat to an array of DIs to the house; I get a rich signal, and thus so does the house, with no noise.

After that, it's up to the sound tech. Sound people, in a multi-performer gig, please write your channel settings down. (You would be surprised at how many folks don't. "No Problem, I'll remember it all, man". Yeah sure.)
- Tour Schedule - Press Kit - Discography - Contact - Buy - Product Info - Home -
Guitars

My Martin D-28, a marvelous old road warrior circa 1951 w/ a 1973 neck, brass nut, Schaler speedball pegs, has 2 discreet pickups: a Fishmann Matrix (without a preamp, just a battery in the guitar), and a still-in-beta string return pickup with a passive DI wherein resides a fabulous Jensen transformer. I hang this guitar on a four inch wide strap with soft leather padding (the only padding that doesn't eat or litter my shirts); living in a colourful Calton case, and Played Often!!

---------------------

A Larrivée Presentation, the last of two manufactured in Victoria in 1980

--------------------

An Ed Dick 5-string acoustic bass, w/ a high C instead of low B, spruce top and maple back and sides, single cutaway, built by sound sculptor Edward V. Dick , has a 5 string Fishmann bass pickup with an active jack, quite a thin neck for the load it bears, and resides in an oversize blue Calton case.

------------------

Guitars

A Gibson Les Paul, circa 1952, (incredibly heavy but what sustain) with the old single-coil, soap-bar pickups. Someone painted it black, I have added gold hardware, and as well have a vintage gold Bigsby that when installed will return to the original trapeze-tailpiece bridge suspension

------------------

A 1977 Fender Jazz bass, made fretless and with a Stars-Guitars pre-amp/bright boost and maple slips in the old fret grooves (my cheats).

Other Hardware

A 1958 Ampeg B-15 Porta Flex bass amp, with a generic, sedate 15 inch, unfortunately without the little bolt on trolley it originally had (Oh my aging back!!).

---------------------

A Galleon Krueger MBE bass amp, very tweak able pre-amp, not bad for acoustic guitar at low levels, way-big sound for one 12" speaker, and light!!

---------------------

A 1973 Mesa Boogie guitar amp in a koa wood box, light cane on front, 60/100 switch, graphic eq and a JBL 12"; not great with the acoustic.

--------------------

Other Hardware

A Roland GS-50 Digital Guitar Processor multi effects unit, designed for electrics, thus a bit over the top for acoustic; it's sent through 2 DIs to the house, and through some stage amp. I feed this signal with the Fishmann pickup. (I mix this unit in the front-of-house about 9 Db lower than the string return pickup, so that the effects are always ghosting behind a much stronger, cleaner signal.)

-------------------

A Mackie 1202 VLZ, a small mixer with the excellent pre-amps that all Mackie boards sport; I mix my various guitar signals through this for specific gigs. It

------------------------
- Tour Schedule - Press Kit - Discography - Contact - Buy - Product Info - Home -
Studio Gear: pretty basic fare

What I Used To Have: Archive from 1998

2 black-face (16 bit) ADATs, MOTU's Performer sequencer software and a Mac 3400c PowerBook w/ 80 Mg, 240 Mz, only a 3 gig HD, mixed on a Mackie 1604 with the add-on 10 preamp strip, with a Mackie 1202 for studio headphone system.

Neumann KM 84 condenser mic, 2 Shure 58s and a Shure 57

I have a small stable of processors, including a Yamaha TZ-81 sound module, a DX-7 keyboard, a Roland PMA-5 palm-top sequencer, a Yamaha DX-100 controller, a Yamaha SPX-90 effects processor, and 2 stereo 31-band graphic equalizers, a Yamaha and an Ashley ,

3 playback systems: Bose Panarrays with the 502 bass bin, a pair of Boston Acoustic monitors, and two scrappy old Auratones.

I rent mics, DAT recorders and other processors that the day may require.

------------------
- Tour Schedule - Press Kit - Discography - Contact - Buy - Product Info - Home -
Classic Collection: CD only
A "Best Of" up until 1988, songs chosen by Valdy, released by A&M, now distributed by Universal Music Canada and Joe Radio. (with an acoustic version of the hit Play Me a Rock 'n' Roll Song, a trackrecorded live from Toronto's Massey Hall). 18 tracks in all, including Valdy's first string quartette arrangement ever on Whirl and Twirl and Swirl (circa 1972).
VALDY - CLASSIC COLLECTION, A&M, CD 9147
1. Peter & Lou, 2. Rock 'n' Roll Song, 3. A Good Song, 4. Dirty Old Man, 5. Yes I Can,
6. The One You Love, 7. Hot Rocks, 8. Simple Life, 9. Leaving Ain't the Only Way to Go,
10. Weathered Hands, 11. Whirl & Twirl & Swirl, 12. Easy Money, 13. Sonny's Dream,
14. Renaissance, 15. Hometown Band, 16. I'd Rather Be, 17. Landscapes,
18. Chocolate Goodnight.
- Tour Schedule - Press Kit - Discography - Contact - Buy - Product Info - Home -
SmorgasBard: CD only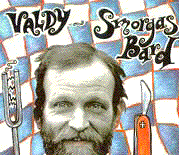 This collection contains previously unreleased masters from an eleven year period. There's such a wide assortment of styles here, I called it a dog's breakfast, to which my wife Kathleen replied "It's a smorgasbord." She quickly changed that to SmorgasBard. The fare includes a rare duet on Double Solitaire with Senator Tommy Banks. This disc was recorded and mixed with Greg Pauker at Saltspring's Sculpture Sound (http://www.sculptorsystems.com) It is available from Festival Distributing (http://www.festival.bc.ca) and 1 800 Joe Radio ( 1-800-563-7234 )

VALDY - SMORGAS BARD, Rack-On-Tour, ROT101

1. Stay For The Fire, 2. Scruffy Dudes, 3. She's In Love With The Boy,

4. Wedding Walt's / Amore, 5. Roll Man Roll, 6. Hockey Night In Canada,

7. Get a Haircut Dad, 8. Peace of Mind, 9. Double Solitaire,

10. Daddy's Shadow, 11. Speed of the Sound of Loneliness, 12. Silent Passage.

Valdy teams up with Gary Fjellgaard to bring this charming collection of well written songs to market on Stony Plain Records. Warner Music Canada distributes this CD. Recorded in Edmonton and on Saltspring Island, it includes Tried and True, Islanders, Goodness Knows, Boys of Rhythm, Heartbroken Hero, the title track Contenders, and an acclaimed version of the late Roger Miller's classic King Of The Road.

- Tour Schedule - Press Kit - Discography - Contact - Buy - Product Info - Home -
Valdy's Kids' Record CD:

This wonderful collection of songs has legs; it sells briskly year after year, delighting kids 2 to 10, and sequenced so as to be non-irritating to (most) parents.

Bayview Community School Choir in Vancouver added their voices to this collection of encouraging and entertaining songs, which includes Daddy's Okay, Workin' On TheRailroad, and an original take on Quartermaster's Store.

No Cassettes, but the CD is available
Viva Valdy: Live at Last - a 2 CD package w/ lyric booklet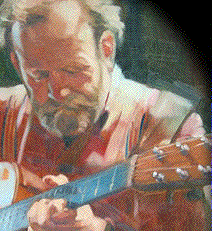 In stores, "Viva Valdy" - ROT 22152. You can order by phone (800) JOE RADIO, 9>5 EST.
Ordering online is a mere click away >>> Viva Valdy: Live at Last
Heart at Work:
Here is a brilliant sounding CD that has fallen off the planet. Lush production from 3 great producers (Bill Henderson, Bill Buckingham and Dan Donahue) provides a textured context for Link In A Chain, First Time Around, Hey Hey Mama, Shining Times, a moving plea When Peace Came To The Valley, and more.
Regretfully, this CD is not currently available, but stay tuned....
- Tour Schedule - Press Kit - Discography - Contact - Buy - Product Info - Home -
ALL RIGHT, THE WORLD IS NOW FOCUSSED ON OUR CONVERSATION